We will be hosting a series of free webinars throughout 2018. First off the ranks is a preview of the highly anticipated new features in HEC-RAS 5.0.4: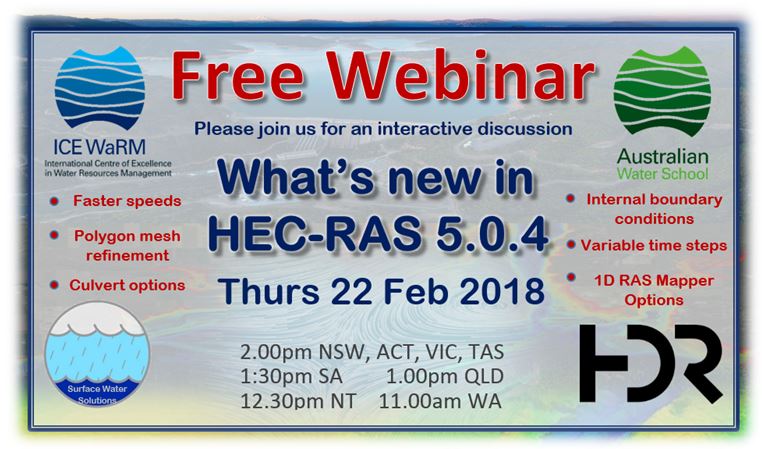 We have been busy testing the new beta version and are looking forward to the full release in the near future. New features include:
* Faster computation speed
* Pre-processor for 1D elements in RAS Mapper
* Additional hydraulic structure options (no more wormhole culverts!)
* Variable computational time step
* RAS Mapper enhancements
* Internal boundary conditions
* 2D polygon mesh refinement
* Bug Fixes
Register for the webinar here through the ICE WaRM website.
Our next webinar in April 2018 will focus on customising HEC-RAS using HECRASController, presented by the RAS Solution's Chris Goodell. HECRASController allows users to set up ensemble or Monte Carlo analyses to comply with ARR 2016 guidelines.
Register your interest to be kept informed of future webinars.
---
Previous webinars:
We held a free flood modelling webinar Thursday 11 May 2017 hosted by the International Centre of Excellence in Water Resources Management (ICE WaRM).
The webinar was presented by Krey Price, Mark Forest, and Dr. Robert Keller. Click on the video below to view the recording:
The video file can be downloaded from the ICE WaRM website along with supplemental materials addressing some of the topics raised during the Q&A session. Click on the image below for a pdf flyer. We will be holding webinars on a regular basis; please submit topics of interest for consideration in future webinars.