| Adelaide | Auckland | Bendigo | Brisbane | Christchurch | Darwin | Hobart | Melbourne | Munich | Newcastle | Paris | Perth | Salt Lake | Singapore | Sydney | Wellington |

We held a number of courses across New South Wales in 2016 and 2017; thanks to all who  attended and participated in the workshops!
Our next course in Sydney will be organised through the International Centre of Excellence in Water Resources (ICE WaRM) in June 2018. The course will be similar in structure to the recent 5-day course held in Brisbane in September 2017. Please register for the June 2018 course via the ICE WaRM website.
Click here to download the flyer.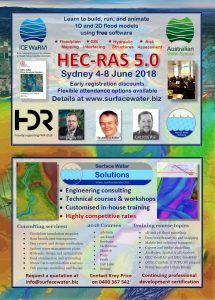 If you have training needs in the meantime, please contact us and we can customise an in-house course to suit your organisation's needs.
Those who have registered their interest for the ICE WaRM course will be kept informed of updates as dates and venues are finalised.

---