| Adelaide | Auckland | Bendigo | Brisbane | Christchurch | Darwin | Hobart | Melbourne | Munich | Newcastle | Paris | Perth | Salt Lake | Singapore | Sydney | Wellington |

Please note: registrations have now closed for our October course in Singapore.
If you are interested in future training courses in Singapore or in any other city, please submit our registration of interest form or contact us directly via e-mail.
---
Please join us in Singapore for an intensive, interactive course covering 2D flood modelling with the free HEC-RAS program.
The price for the 2-day course is just SGD $500. Academic pricing is just $150 per day. Please enquire for a coupon code to apply the discounts at checkout.
With $99 fares from Australia to Singapore, why not Scoot to our course for a working holiday?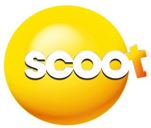 Click on the image below for a pdf flyer with course details: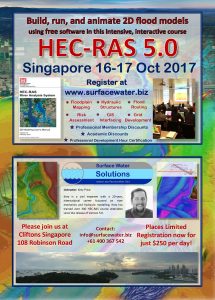 ---
HEC-RAS 5.0 Course Outline
---
DAY 1: Monday 16 October 2017
| | |
| --- | --- |
| 9:00 am – 9:15 am | Introductions |
| 9:15 am – 9:30 am | Animation demonstration |
| 9:30 am – 10:00 am | Lecture: 1D vs 2D Theory |
| 10:00 am – 10:15 am | Lecture: RAS Mapper and GIS interfacing |
| 10:15 am – 10:30 am | Morning Tea |
| 10:30 am – 11:30 am | Workshop: Importing terrain files |
| 11:30 am – 12:30 pm | Lecture: Computational mesh generation |
| 12:30 pm – 1:00 pm | Lunch break |
| 1:00 pm – 2:00 pm | Workshop: Creating 2D areas |
| 2:00 pm – 2:45 pm | Lecture: Hydrologic boundary conditions |
| 2:45 pm – 3:15 pm | Lecture: Time step selection |
| 3:15 pm – 3:30 pm | Afternoon tea |
| 3:30 pm – 4:30 pm | Workshop: Entering unsteady flow data |
| 4:30 pm – 5:00 pm | Lecture: Computational options |
DAY 2: Tuesday 17 October 2017

| | |
| --- | --- |
| 9:00 am – 9:30 am | Lecture: Adding internal structures |
| 9:30 am – 10:00 am | Workshop: Running a model with structures |
| 10:00 am – 10:30 am | Lecture: Dams and lateral weirs |
| 10:30am – 10:45 am | Morning tea |
| 10:45 am – 11:45 am | Workshop: Simulating a dam/levee breach |
| 11:45 am – 12:30 pm | Lecture: Viewing and exporting in RAS Mapper |
| 12:30 pm – 1:00 pm | Lunch break |
| 1:00 pm – 1:30 pm | Lecture: Troubleshooting steps |
| 1:30 pm – 2:30 pm | Workshop: Troubleshooting models |
| 2:30 pm – 3:00 pm | Lecture: Model Calibration |
| 3:00 pm – 3:15 pm | Afternoon tea |
| 3:15 pm – 3:45 pm | Lecture: Benchmarking HEC-RAS vs. other models |
| 3:45 pm – 5:00 pm | Workshop: Building your own model from scratch |
---
 Venue Map:
Cliftons Singapore
108 Robinson Road
Singapore