The dividing line between hydrological models that quantify rainfall-runoff and hydraulic models that characterise the runoff keeps getting blurrier with the increased use of rain-on-grid or direct precipitation boundary conditions in hydraulic models.
[As the H&H trivia bit for the day, does the "H" in HEC stand for hydrological or hydraulic? Click here for the answer!]
Hopefully we can look forward to a day when HEC-HMS and HEC-RAS are combined into a single model, but in the meantime, HEC users typically apply HEC-HMS for hydrology and HEC-RAS for hydraulics.
Those using HEC-RAS for rainfall-runoff hydrology will be limited by the current inability to incorporate spatially varying infiltration (or any infiltration for that matter). Spatially varying rainfall is another limitation. Temporally varying rainfall patterns can be entered as precipitation time series, but each 2D Flow Area can currently only handle a single pattern across all cells; spatially varying rainfall and infiltration are reportedly in the works for Version 5.1, but that release is not expected until mid-2019 at the earliest.
Another limitation that affects direct rainfall models in HEC-RAS is the lack of depth-varying roughness capabilities. When a single model is intended to simulate large sheet flow areas in addition to concentrated flow paths with deep, channelised flow, depth-varying roughness can have a significant effect on the results, and sensitivity analyses should be performed over a range of roughness coefficients.
With those disclaimers out of the way, HEC-RAS can still be a very useful tool for direct rainfall models, so long as infiltration is removed up front so that the precipitation time series includes rainfall excess only. A HEC-RAS rain-on-grid model generally should not serve as a substitute for detailed hydrological analyses, but if you have terrain data covering your entire catchment, it can help confirm show flow paths, characterise basin response times, and provide other useful information to highlight areas requiring further adjustment or calibration in the hydrological model.
---
Australian Rainfall and Runoff
The 2016 update to Australian Rainfall and Runoff (ARR) guidelines recommends the use of ensemble modelling and Monte Carlo analyses for hydrology. So what do you do if you are using a rain-on-grid hydraulic model to quantify and characterise rainfall-runoff? Ensemble modelling and Monte Carlo analyses are great for hydrological models that can run thousands of patterns in a single shot, but what do you do when your hydraulic model takes a week to run a single storm pattern?
Another problem is that your hydrological analysis is generally based on a set of conditions that represents the critical event at a single node. But what if you want your model to include a carpark culvert with a 2-minute response time in addition to a development detention basin with a 1-hour response time – and a larger river basin with a 24-hour response time – all in the same model?
Well how about the frequency storm? This has always been an option in HEC-HMS: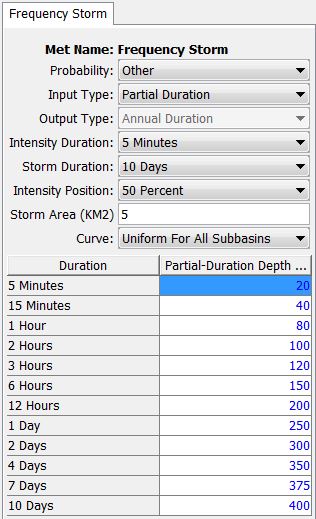 Essentially the frequency storm builds the intensity associated with every duration into a single, hypothetical storm event. Because it includes a whole range of critical durations, it can provide more comprehensive results and give you a good idea of where to focus your efforts.
Some rainfall patterns are based on actual, observed events, with patterns that you might expect to see; the frequency storm, however, is purely hypothetical. There never yet has been a single, 7-day storm, for example that included the highest 1-minute intensity, the highest 1-hour intensity, and the highest 24-hour intensity, all in the same event. In essence, a 100-year frequency storm has a much less frequent recurrence interval than 100 years if you assess it in terms of the overall damage or flood risk within a catchment.
I have developed a spreadsheet that takes IFD data straight from the BoM interface and converts it into a frequency storm that can be entered as a rain-on-grid hydrological boundary condition in HEC-RAS or other hydraulic models.
If you would like a copy, please contact me via e-mail and I will send you a download link.
---
Frequency Storm Generator
Here are some screen shots along with the procedure for generating the storm:
Step 1. Go to BoM IFD system
Step 2. Enter coordinates (best to check a few points within your catchment to get a feel for the overall variation across the catchment)
The program should generate some graphical IFD curves that can be displayed in terms of intensity (top figure) or depth (bottom figure):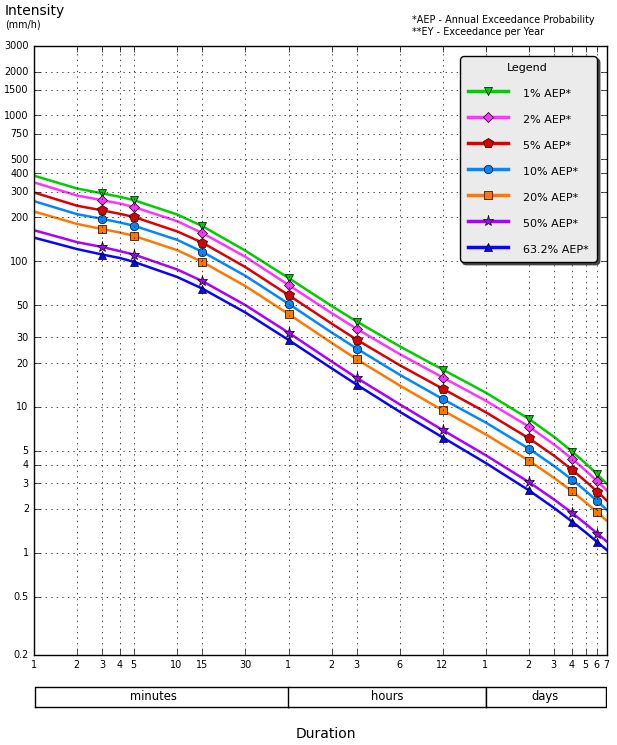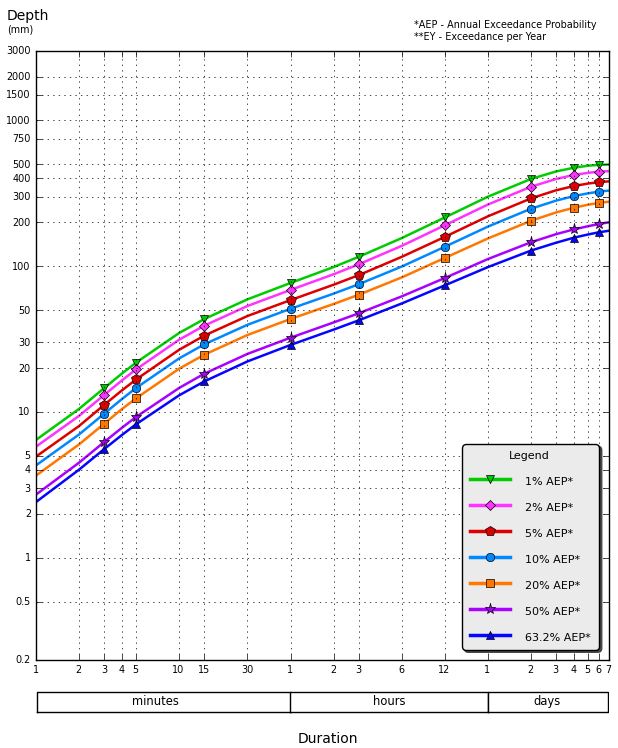 Step 3. Select "Table" tab and make sure units are set to depth in mm (not intensity in mm/hr)
Step 4. Copy from BoM IFD table as shown below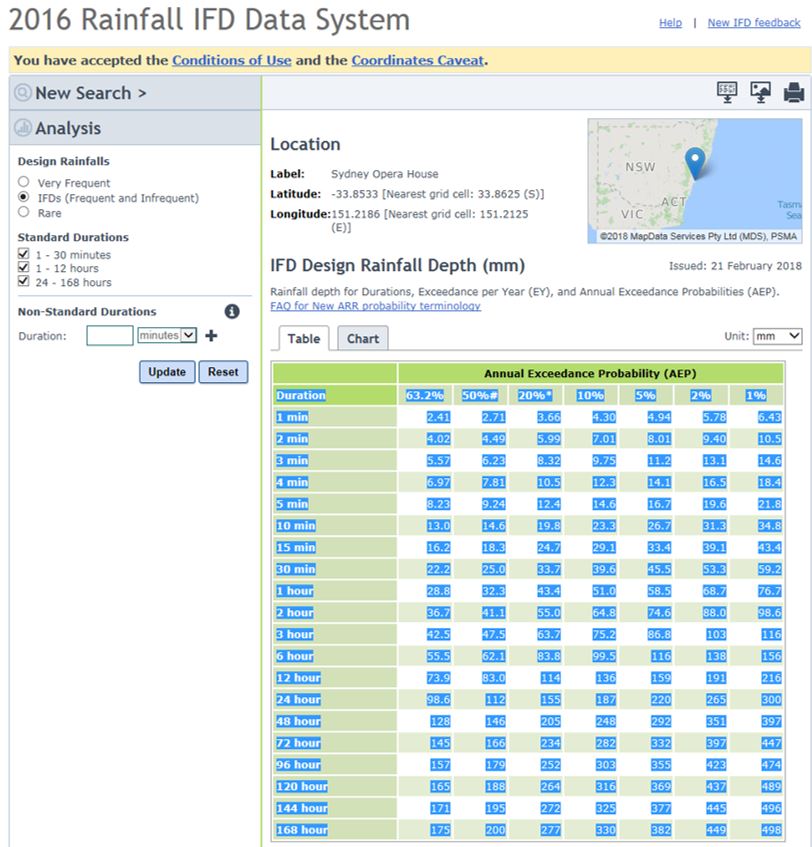 Step 5. Paste values into spreadsheet: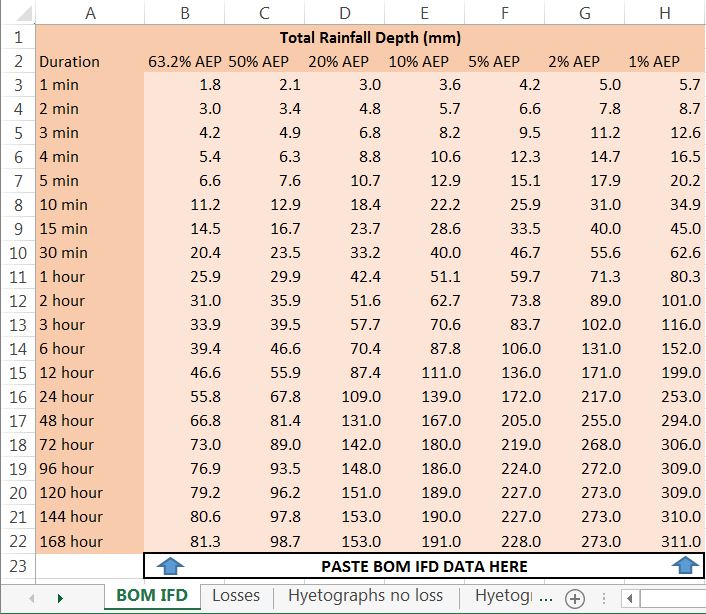 Step 6. Enter loss rates:

The spreadsheet generates tabular and graphical results for the frequency storm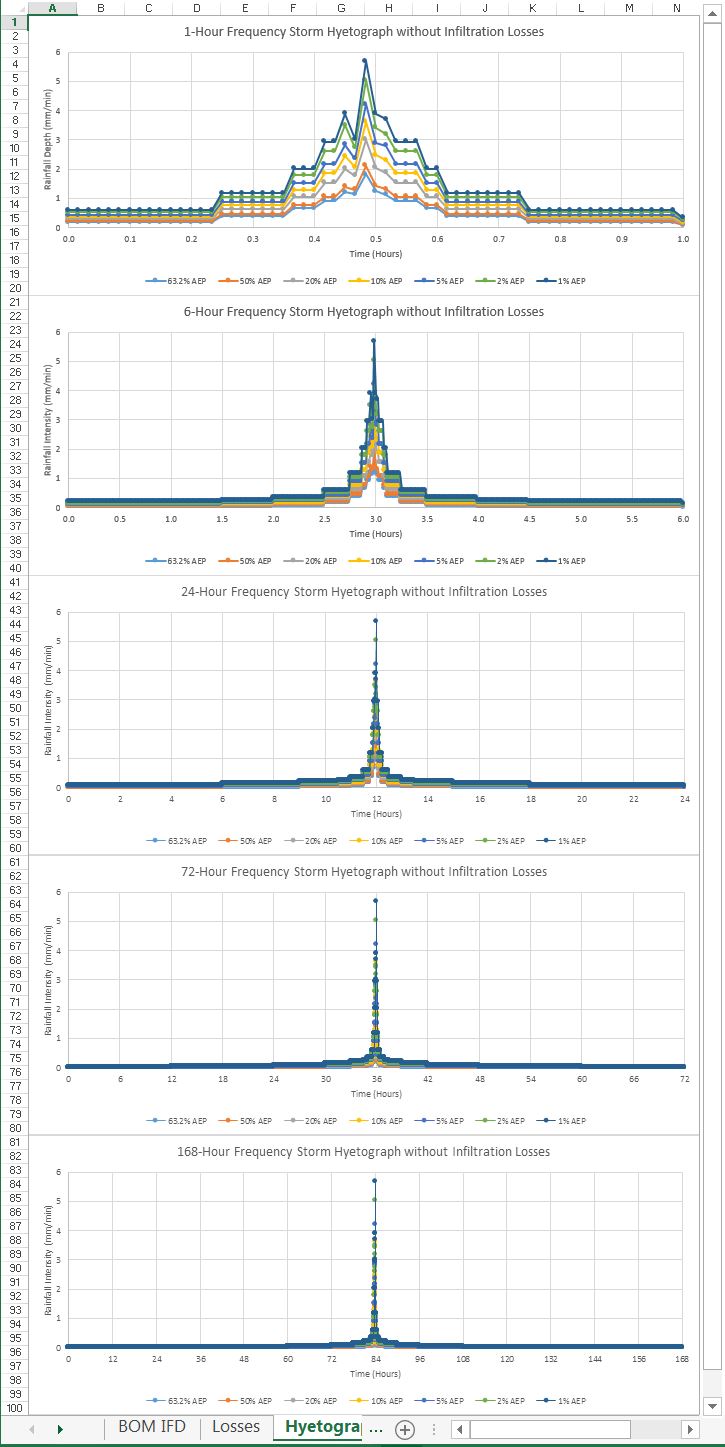 [The drop just before the peak is a glitch in the BoM script; I have left it in the spreadsheet to remain functional when the glitch is corrected.]
Step 7. Copy and paste the table from the spreadsheet with or without losses as appropriate.
Step 8. Assuming you already have a HEC-RAS model with a 2D flow area covering your catchment extents, paste values into precipitation time series.
---
Keep in mind that this is not a substitute for detailed hydrological analyses as described in ARR 2016, but rather a bookend to show you upper limits and find the features that need further assessment. The spreadsheet includes the ability to enter loss rates, but if it holds up to a frequency storm without losses or areal reduction, you can be reasonably confident that it will handle any temporal storm pattern that ARR will throw at you.
As always for rain-on-grid models, watch out for artificial storage in your system caused by bad terrain data! And remember calibration is key!
Krey Price
Surface Water Solutions
---