As an alternative to standard courses, we can customise a training program to best suit your needs. A customised training program can include any combination of individual private instruction, webinars, remote instruction, or customised, in-house courses. Pricing for selected options is listed here. Please contact us for a customised training proposal. Download our flyer for more details on in-house training options.
A customised course held at your location may provide a better value than a standard course, because an in-house course can focus on content that is most relevant to your organisation and can be scheduled to suit staff availability.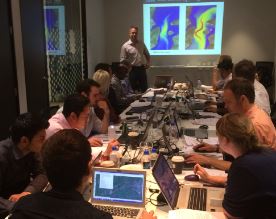 If you have topography available for one of your organisation's projects, we can build case studies and tutorial models in advance using your own projects for use in course workshops, providing attendees with relevant, hands-on experience.
Customised courses can focus on topics relevant to your organisation, so that attendees get the best results for their time spent, and the organisation maximises the return on the training investment. Courses can be tailored to include specific features within HEC-RAS or other hydrologic and hydraulic modelling software, such as:
Dam break
Sediment transport
Bank erosion
Bridge and culvert modelling
Fish passage
Hydraulic structures
Hazard classification
Water quality modelling
Water temperature modelling
Floodplain risk assessments
Development impacts
HEC-RAS Controller
Monte Carlo analyses
Water Sensitive Urban Design
HEC-GeoRAS and GeoHMS
Hydrologic model interfacing
Direct rainfall/rain on grid
Coastal and marine applications
TUFLOW model conversion
Interface with other software
Scoping and reviewing consultant deliverables
We provide certification of professional development hours upon completion of our courses. In-house courses can be booked here; please contact us in advance to confirm dates and desired content.